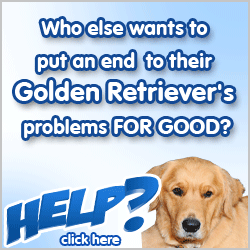 Every dog you come in contact with is a unique 'individual', even ones that look very similar. All golden retrievers share a shade of the golden color where their name comes from. As has been said this striking breed can have coloring that varies from an almost white, creamy color to a dark, rich golden color.
All shades are accepted by the kennel clubs except an all white coloration or mahogany red color. In all other shades, the desired coloration for a show dog is a rich coloring of the feat. Any feathering present may be a lighter color than the rest of the coat.
The golden retriever can be broken down into three 'types', and beyond that two 'kinds'. All of them with subtle differences among each other, these include…
British type
American type and
Canadian type of golden retrievers
The Canadian type of golden retriever is a lighter, color and stands taller than the British type. While a lighter color and lighter than the American type, the Canadian type isn't quite a light creamy gold color, which is a characteristic of the British type. The British type of golden retriever is stockier, thicker and shorter than both the Canadian and American type. The American type of golden retriever possesses a thicker coat, as well as a finer head, and a slanted, triangle shaped eye. All golden retrievers, regardless of type or kind, have friendly brown eyes.
The two 'kinds' of golden retrievers are field dogs and show dogs. Field dogs are the smaller of the two, darker of the two, and have a shorter, not as dense coat. Their coat is more suited to playing outside all day and getting muddy and dirty then the show dog. The show dog has a long, thick coat, and generally a lighter color than field dog golden retrievers. This second kind of golden retriever is also heavier and bigger boned than the field dog.
Mixed Breeds – Mutts or Designer Dogs?
A purebred golden retriever is a beautiful animal, but so is a golden retriever mix. There are even some advantages to having a mix breed instead of a purebred golden retriever. One of those is if you mix a golden retriever with a breed that does not shed much, you end up with a dog that does not shed as much as a purebred golden retriever. An example of this is the goldendoodle, a golden retriever mixed with a poodle. Beagles, German Shepherds, Poodles, Labradors, Boxers, Irish Setters are just some of the breeds that are mixed with a golden retriever.
There are a few disadvantages as well to having breed mixed with a golden retriever. One, which is true for all mixed dogs, is that they are not recognized by the American Kennel Club and cannot be registered. The other is that when you mix two breeds of dogs, if they share a characteristic, that characteristic will be heightened. This is a problem when both breeds have a similar health problem, such as hip dysplasia. Golden retrievers can be victim to this disease, as well as Labradors, so when you mix the two, the chances of your mixed breed dog having this problem increases.
Pure bred, mixed breed, American type, British type, Canadian type, show dog, field dog, all of these variances in the golden retriever breed still have this in common. This is an incredible versatile breed who will adore you.
Share your thoughts below…